How to add a Google Forms to WordPress Site – Nowadays, there are plenty of WordPress plugins that allow you to add different forms of web pages, ranging from simple connection forms to more complex patterns with customizable fields and additional features.
How to add a Google Forms to WordPress Site
But before you download another trendy plug, pay attention to Google Forms. you will be able to easily integrate with any WordPress site.
You Are Familiar With Google Forms
Google Forms – a universal and completely free tool from Google that is part of Google Drive. This feature is so carefully hidden that many active Google users don't even know it exists.
With Google Forms, you can:
Share form is not very difficult, but what if you need to put a form on your site WordPress?
The most basic problem with this method is that the form retains the default style of Google and cannot be consistent with the design of the site. The form cannot be changed with the help of CSS next to it you will display the Google logo and some additional links to Google.
Fortunately for you, there is a special plugin that can solve this problem.
Google Forms Extension
Google Forms plugin allows you to insert and manage forms directly from the admin interface of WordPress. It offers more options for integration with WordPress and allows you to customize your form better.
Let's go work with him.
On the Google Forms tab you can see all the forms as you will see a list of all the posts or pages. In addition, you can filter, edit and delete any bulk actions.
If you are not in any form on this page, you will not see anything. In this extension, you can create your own form.
But you can add existing ones by simply clicking Add New to Google Form. For example, we will use a very simple registration form:
As you can see, you need a form pre-created and directly in the URL.
To do this, go to Google Drive and in the Mail Writing window of the form, click on the big blue Submit Form button in the top right corner. 
Read Also: How to View Google Form Results
Before a box of different items appear, between which you can also find the required connection to be copied.
Next, paste the link into the Form URL in the plugin
Next, you can add an optional function confirmation URL. Since the default confirmation page is very simple and usually cannot be integrated into the website, we offer to fill in the field in order to simplify the whole process.
Assign Custom Confirmation Page style can specify how it is presented by selecting redirection or AJAX. Note that if you do not select the options, the redirection will be the default.
Read Also: (15 Tips) Google AdSense Best ad Positions on Websites
These are the three main areas that are needed to make everything work properly. Next, let's see how to set it up differently and place the form on the WordPress page.
Fill Additional Fields in the Google Forms Plugin
There are many more fields that you can customize, but most likely, you will never need to set them up at once, especially if you don't create a very complex shape. But for full development and detailed knowledge, let's see what other options are available.
The Parameters are Set in the Plugin Google Form
Not yet fully finished in our settings. Although these are not necessary, some of them have a good influence on the design of the shape, set the required parameters, and so on
CAPTCHA. It provides protection from spammers and an additional level needs to be checked.
Columns. Google forms only appear in a default column. With this feature, you can divide the form below into multiple columns. You can also specify the order of the columns you specify from left to right or right to left.
Email end users. Use this feature if you want the user to be notified after the email by filling out the form.
Yogi. A normal signature is always "Google Docs", which will turn off this window.
Read only. If you want to create a read-only form, you must enter it here.
CSS prefix. Adding a prefix at the beginning of each class name to Google will form a unique look.
CSS suffix. If you do not use CSS, this feature will add a string at the end of each tag.
Title. If you do not want Google so the name appears on the page, you can install it here.
Map H1 H2. If you want your name to appear but not H1 as one of its elements (which is the default), use this function to display H2 as an element.
Unite Theme Hack. If so, you don't have to, don't use the theme Unite Parallels to pay attention to that area. Otherwise, be sure to activate this feature, because without this hack will not work properly.
Publish the Form to WordPress Website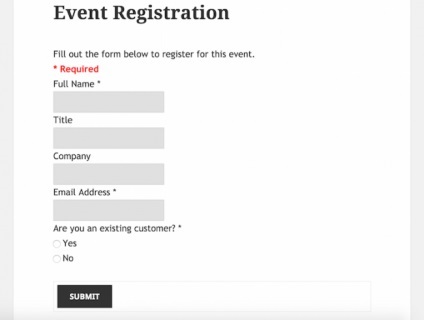 Event Log
You will find all the event logs going from the form submission to the Log menu. You will see techjustify and URLs for each activity, which can be deleted at any time.
Consclusion
It can be said from personal experience that Google Forms is very convenient. Yes, it may not be the largest bulk and functional software, but it is a completely free source, so it is definitely worth considering.
If you want to have full control over the design of your forms, you may want to download the Google Forms plugin for WordPress. users will never know that you are using a free service from Google with the right settings and design.