Best Youtube Banner Maker – If you are looking for how to create a Youtube banner without software , this article will be useful for you.
You will discover 7 tools to easily create Youtube banners, without installing or using software and without special knowledge in graphics.
Best Youtube Banner Maker
Canva
Canva is a very complete online graphic creation platform, designed to facilitate the creation of visuals.
This tool is mainly aimed at novices and allows you to create all kinds of visuals (business card, CV, Youtube banner, email header, logo, ebook cover, visual identity, leaflet, flyer, brochure, computer graphics, etc. ).
When it comes to creating visuals for Youtube, Canva allows you to make Youtube banners and thumbnails in just a few clicks using one of its templates. You can then customize your banner by uploading your own images, photos, or using Canva's library.
Pixelied
Pixelied is an online visual editor to create Youtube banners, thumbnails and other types of visuals for social networks, websites and blogs, events, etc.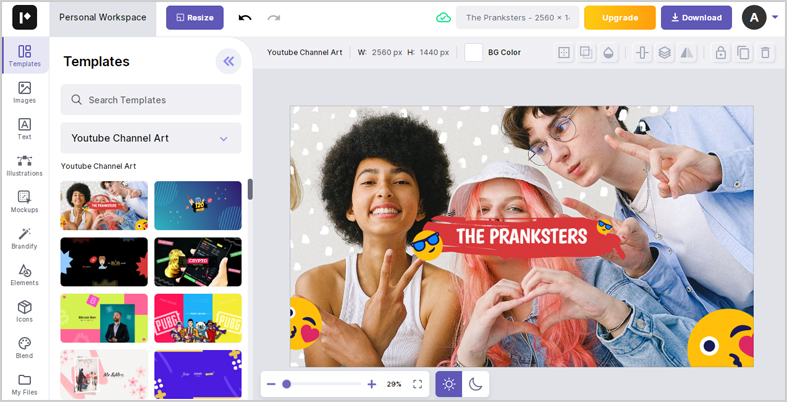 This design tool is feature-rich, and offers image and photo editing tools typically found in photo editing software like Photoshop.
In addition to these tools, Pixelied offers an extensive library of over 2700 templates with different formats suitable for all social networks, over 4 million free photos, icons, illustrations and a selection of vectors.
You can use Pixelied's editor to modify and customize the templates as you wish. You can change the colors, modify the font, add illustrations and images, add text, …everything can be modified.
Pixelied also allows collaborative work and document sharing to help teams edit documents online together , and create a working group.
Stencil
Stencil is another graphic design tool designed to facilitate the creation of visuals. It makes it very easy to create professional graphics in minutes using an easy to use interface.
This tool can be used to create Youtube thumbnails and banners , and visual content for social networks (Facebook, Instagram, Pinterest, Twitter, etc.).
Stencil offers its users royalty-free photos and icons , templates and quotes, and also a logo creation tool.
Vimse
If you are looking for a simple and comprehensive graphic design tool, try Vimse . In addition to creating Youtube banners , Vimse allows you to create visuals of all kinds. You can use it for:
Presentations;
Infographics,
Documents ;
Business cards and flyers;
Invitations and gift cards;
Magazine and ebook covers, etc.
To create a Youtube banner with Vimse, you choose a template by selecting " Youtube Channel Art " and customize it as you wish (you can add text, images and icons, change the color of any element, modify appearance, moving and resizing your Youtube banner elements, etc.).
A free version of Vimse is available, which allows you to test the tool without paying anything and find out if it meets your needs.
Placeit
If you're a Youtuber, blogger, influencer, or marketer, you'll love using Placeit to create visuals in record time. It's very easy to use and gives you access to over 77,000 templates.
Like Canva, Placeit allows you to create several types of creation. This includes logos, quality mockups, Youtube banners, flyers, posters, business cards, text animations, Instagram stories and many more.
Like all the tools featured in this article, Placeit has an intuitive drag-and-drop editor that allows you to make quality creations.
Snappa
Snappa is a good free image editing tool that you can use to create visuals for your Youtube channel.
This tool is designed to help Youtubers and content creators quickly create visuals adapted to the different formats required on most social networks (like Facebook, Instagram, Youtube, Pinterest, LinkedIn, Twitter, Twitch, etc.).
Snappa offers a free account of its software, which gives you access to more than five million high-resolution photos and graphics, more than 6,000 customizable templates, and you are entitled to three downloads per month. Premium users, on the other hand, have the privilege of uploading an unlimited number of creations per month.
Easil
Many online graphic design tools have appeared in recent years. Easil is one of those tools that are surfing this wave.
As its name suggests, it aims to facilitate graphic design to meet all web and printing needs. The tool provides its users with thousands of customizable templates and a library of royalty-free images.
Among the ready-to-use templates offered by Easil are Youtube banner templates that you can customize to your liking.
You will also find a wide choice of templates with different formats, to create visual content adapted to different social networks. Each template is totally customizable with the drag-and-drop editor.