Sendinblue vs Mailchimp in 2023 Comparison: Which is better – The popularity of well-known emailing platforms like Mailchimp and Sendinblue is well established. Indeed, these are the two most popular references by advertisers on the market. Each of them has its advantages and shortcomings and it becomes difficult to decide between them. 
A complete comparison is therefore necessary in order to discover all the functionalities provided by these tools. Several factors must therefore be taken into account in order to choose between the two.
Sendinblue vs Mailchimp in 2023 Comparison: Which is better?
Presentation of the two platforms
Sendinblue was born from the initiative who decided to publish a Saas tool, put into service in 2012. It has therefore now been around 10 years that the Paris-based company has been providing a solution for e-mailing to professionals.
Users thus have the option of distributing promotional or loyalty e-mails using the modules offered. The company's philosophy is to help small businesses take advantage of the powers of email marketing. Currently, more than 50,000 organizations across the globe have already opted for Sendinblue.
On the other hand, Mailchimp is also a tool whose fame is no longer to be proven. The American company founded in 2001 is one of the world leaders in terms of e-mailing platform.
It especially stood out in its infancy by its lower price than its competitors, but just as effective. Today, this company sets itself up as a real reference providing multiple digital marketing solutions in general.
The main features of Sendinblue
In order to make the right choice of e-mailing tool, it is imperative to assess the relevance of the functionalities of these two solutions. The goal is to determine which of them is most likely to meet the needs of users.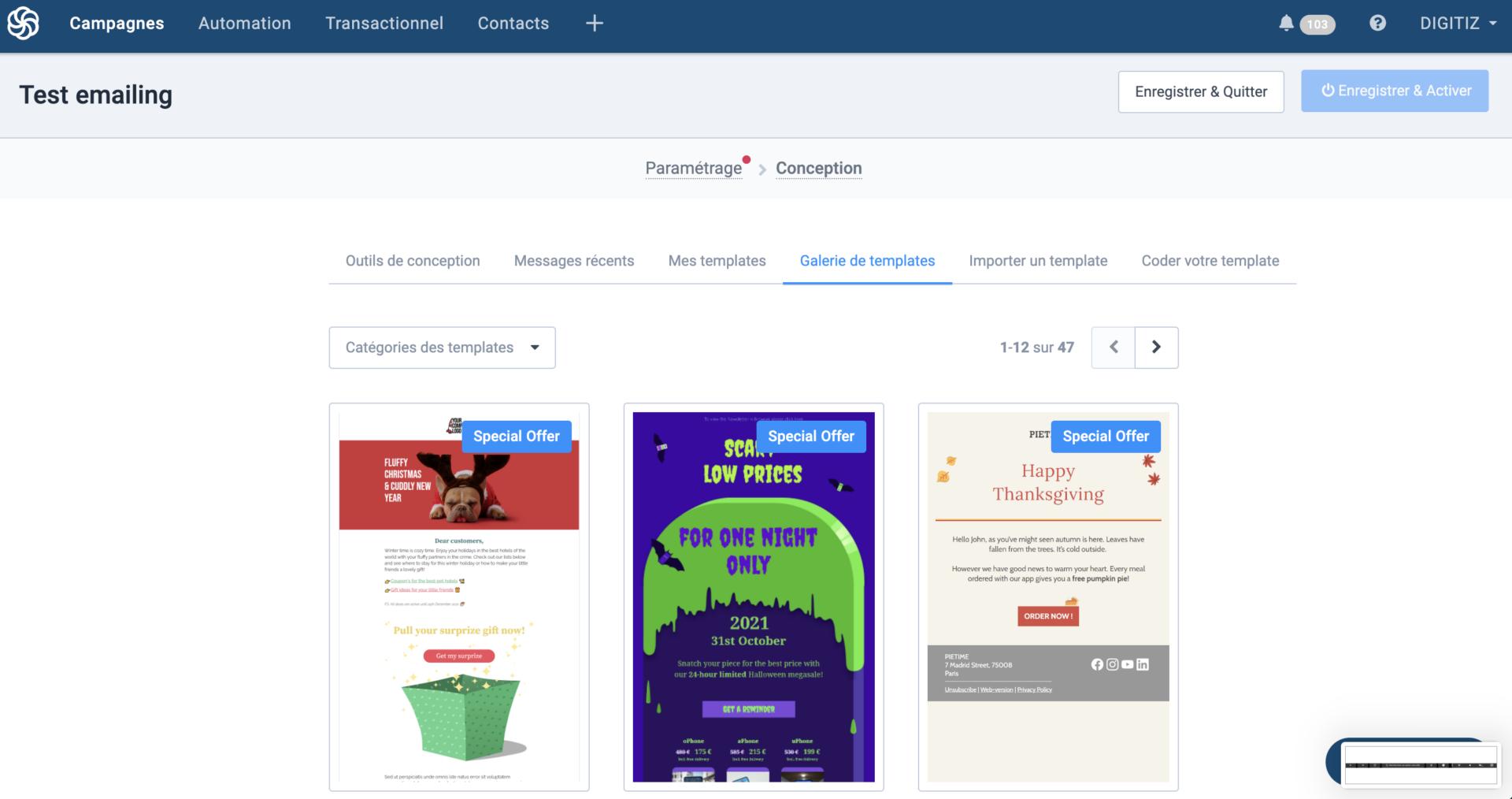 As for Sendinblue, it has the common features present on this type of platform. The interface for creating e-mails for marketing purposes is to be mentioned first. It is possible for users to design their templates using the principle of drag and drop.
The customization options are truly vast. In addition, to measure the results of each campaign launched, simple statistics will be provided.
Managing incoming emails is also one of Sendinblue's specialties. Administrators will have the opportunity to respond to customers via a single interface, but with different titles or addresses.
We must also not forget the module for sending SMS or creating a chatbot for a website. In addition, Sendinblue is also equipped with a very ergonomic CRM module to better manage relations with contacts. Interaction with the latter is also increased thanks to the choices provided by the available form models.
The main features of Mailchimp
For its part, Mailchimp is also quite complete in terms of features. However, most of the options offered are quite similar to those offered by Sendinblue. This is particularly the case of its e-mail creation module which is also based on the drag and drop system (drag and drop).
It is possible to use the various pre-designed templates to make the task easier. Users will be able to choose between four types of campaigns: Regular, Plain Test, A/B Test, and RSS Driven Campaign.
These different options are extremely useful for correctly configuring your mailings according to the objectives to be achieved. Unfortunately, the American platform does not yet include SMS creation and distribution tools.
Nevertheless, it is no less effective for designing newsletters or automatic responses.
However, Sendinblue seems to take the lead over its counterpart on essential points. It offers increased intuitiveness and offers, for example, a contact segmentation module using several filters.
However, Mailchimp makes up for it with the more data-rich statistical reports it provides.
What about the deliverability rate?
It should be known that the e-mails sent, especially within the framework of a marketing campaign, do not always achieve their objectives. Indeed, a large number of emails can end up in spam or among those automatically classified as promotions.
This is due to the blocking systems of the main messaging platforms such as Gmail, Outlook or Yahoo.
Deliverability rate is the percentage of emails that actually reach the target's primary inbox. This indicator is of paramount importance in determining the effectiveness of an e-mailing tool.
Thus, studies have been carried out on campaigns launched via Sendinblue and Mailchimp. The results are unanimous, the American tool gets a rather bad score compared to its competitor.
Only 11% of emails sent by the latter go to spam against 14.2% for the other. This brings the deliverability rate to 89 and 85.8% respectively. The difference seems minimal, but every point counts when it comes to boosting sales.
These figures then show that Sendinblue is to be preferred. However, there are still a host of factors to consider.
Sendinblue Pricing
The Sendinblue base is more like 19 euros per month. This is the Lite formula, with a total quota of 20,000 emails to send and basic emailing options. Unlike Mailchimp, the number of contacts will not influence this price. On the other hand, an increase in the volume of e-mails will also generate an increase in costs.
By betting on a more complete formula which starts at 49 euros per month, the functionalities are even more numerous. This price remains the equivalent of 20,000 authorized emails.
You will have to pay more to unlock a larger number. In particular, users will be able to launch Facebook Ads advertising campaigns or benefit from telephone assistance. Several users will notably have access to a single account.
The two platforms are nevertheless all open to dialogue for companies wishing to obtain personalized solutions. This means that prices will be determined by quotation and will take into account customer requests.
They will then benefit from a personalized offer with even more possibilities compared to the basic packages.
Mailchimp Pricing
The price is always a determining criterion requiring special attention from potential users. With regard to connected platforms or software such as Sendinblue and Mailchimp, pricing is done on a monthly basis.
Thus, it is possible to choose between different formulas, but in both cases, a free version is available. In particular, it gives access to the most basic modules of the two platforms.
This will be enough to launch small-scale campaigns, especially for small businesses or independents who are starting up. Obviously, for more complete solutions, it will be necessary to pay.
On the Mailchimp side, the "Essentials" plan is the cheapest. It costs 11 euros per month for a total of 500 registered contacts. Only 5,000 emails can be sent through this plan. However, this is a price that can increase very quickly if users wish to expand their address database.
The cost will also be higher at each level of number of emails to send. This system is quite restrictive, because the final invoice is quite exorbitant if the company contact file is substantial.
The level of convenience offered
The user experience is also an important criterion for deciding between Mailchimp and Sendinblue. Indeed, if the main functionalities of the two tools are similar on several points, everything can be played on ergonomics.
In this area, Mailchimp can very quickly be penalized. Its interface remains simple to understand, however, it is easy to get lost because of the different menus offered. Nevertheless, the platform is no less practical, fluid and rich in graphic elements.
For its part, Sendinblue offers more visibility. All of its options are accessible at a glance. Its performance in terms of ease of use does not stray much from Mailchimp, however.
It is still important to note that the platform provides a more advanced marketing automation module. Users will be able to define scenarios for sending emails based on the behavior of contacts.
The two connected e-mailing software are almost equal in terms of practicality, even if Sendinblue has a slight lead. Even their free versions already offer the ability to create high-impact campaigns.
Conclusion
Compared to other similar tools on the market, Sendinblue and Mailchimp are benchmarks. Their editors offer advanced and very complete features that are difficult to find elsewhere. For this reason, many professionals prefer these two platforms.
The decision nevertheless promises to be difficult if it is necessary to choose only one. Everything is thus played on details that can bring a plus for users. In this case, Sendinblue seems to stand out.
Its creators even qualify their platform as a real alternative to Mailchimp, which has a larger number of subscribers. This is proven by their great similarity. However, the Parisian company has been able to offer additional options that put it in front.
Even in terms of price, the Software Sendinblue is much more interesting. It is also available in several languages, unlike Mailchimp, which is only available in English. Nevertheless, its American competitor does not fail to carry out regular updates to bring improvements.