Is Ultraview Safe? and How to Use Ultraviewer – Although it has not been released for a long time, the ultraviewer software has been downloaded and used by many users and has received positive feedback. So is it safe to use an ultraviewer and how to control it?
What is Ultraviewer?
Ultravewer is a computer control software. When this software was first released, it received very positive feedback and changed the community's view of software manufacturing industry. Only released a while after Teamviewer, but this software has very good quality and can almost replace teamviewer in all different cases.
And in addition to the version for personal computers, ultraviewer has different versions on phone operating systems such as iPhone and Android to help users use it most conveniently. case.
Comparison between ultraviewer and TeamViewer
Being founded by programmers, the employer's biggest goal is to provide users with software that is simple, easy to use, and completely free. Meanwhile, products in the same segment have many complex features and charge users.
In particular, the strengths of ultraviewer that the publisher wants include:
A tool to help the community. Can help overcome all difficulties and resolve problems quickly without worrying about geographical distance.
Downloading and using Ultraview is like creating more motivation for programmers to continue developing new products to bring IT industry to the international level.
As for Teamviewer software, although this is software used by many people, the publisher has collected usage fees from users. Besides, the longer you use this software, the stability will certainly no longer be high. This makes many users feel uncomfortable.
Why should you use ultraviewer software?
It can be said that ultraviewer software is a very convenient tool for users. Besides the advantage of being free, this tool also has different strengths that users should download to experience such as:
Highly secure
This software is designed and operated by programmers with absolute encryption. This mode makes sharing image and audio signals easier than ever. This tool will have different support for data security through logging in based on the computer's unique ID during each connection. This feature helps the software ensure limited interaction between computers without other strange signals entering.
Fast connection speed
Unlike teamviewer, which has too many users, causing the connection signal to be very slow, ultraviewer is not limited to the number of different IP addresses connecting at the same time. Therefore, you can use it in many different situations such as conferences and teaching, which are very convenient.
Requires simple configuration
The ultraview tool currently does not require too many computer hardware standards. If your computer has the Windows operating system pre-installed, you can use it without any problems.
Low price
This software is considered a very low-cost remote computer control tool today. You will have free versions with a permanent period to help users maximize their work at the highest level. Obviously, this software not only helps us shorten time but also saves a lot of costs for users.
Is Ultraviewer safe or not?
Normally, if your computer is being controlled by someone else, you may suspect that your personal information will be exposed. However, when controlling remotely with ultraview, you don't have to worry too much. All activities of the operator when using this software will be monitored on the screen. And if you want to regain control of the computer for yourself, you just need to move the mouse again and all actions of the opponent's computer will no longer be effective.
Instructions on How to use Ultraviewer
Instructions for installing Ultraviewer
To be able to use ultraviewer software, you must first know how to download and install the program. To install the program, follow these steps:
Step 1 : Download the ultraviewer software installer from the website
Step 2 : When opening the installer, click next to let the program begin installing the software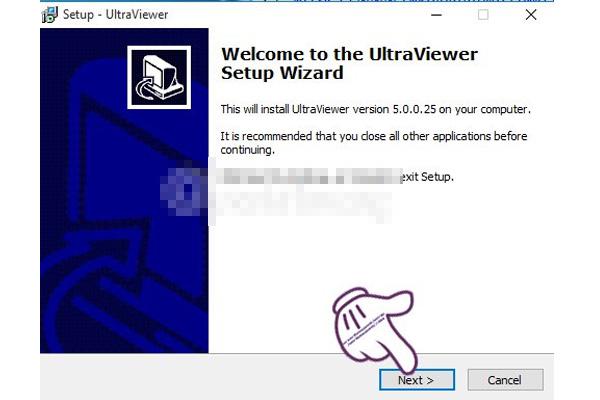 Click next to let the program begin installing the software
Step 3 : After the system boots, select the path to the folder as shown in the image and then click " Next ".
Step 4 : Continue pressing " Next " until the screen displays the message " Ready to install ". At this time, click " Install " to have the system automatically install the software on the computer.
Step 5 : Wait about 3 minutes for the system to automatically install. Then click " Finish " to complete the software installation on the computer.
Instructions for controlling a remote computer with ultraviewer
And after completing the installation process. The main interface screen of the software will appear as shown in the picture:
At this point, you just need to apply the following instructions for using ultraviewer to be able to control your partner's computer:
Step 1 : In the software interface there are 2 items:
Control permission includes : ID, password of the computer you are using
Control another computer : You need to ask the other person to send you their ID and password
Require the other party to send ID and password
Step 2 : After you have the ID and password, click the start control button so the two computers can connect to each other. At this point, you will be able to control all operations of the opponent's computer as if you were sitting in front of your computer. And your partner will also be able to track all of your work activities.
Start connecting 2 computers
Above are Techjustify's detailed instructions on what ultraviewer software is as well as how to basically use the software. Thanks to this tool, all tasks related to information technology that you need support will become simpler than ever.