What is Discord Nitro?
What is Discord Nitro and Is it worth in 2023? – Discord Nitro is a feature built into today's popular games, a high-level form of chat services. When you purchase the Discord Nitro package, you will get global access to be able to use all the emoticons from the games and channels you participate in. 
Typically Discord digital cards, avatars, … Besides, Discord Nitro also allows users to have the latest experiences by providing them with a multitude of innovative and superior features.
In particular, for server owners, this is an upgrade worth the money. In addition, Discord Nitro also maximizes benefits when you "live" the game online or use a close-up camera.
Benefits of Discord Nitro Classic
There are two packages you need to distinguish: Discord Nitro and Discord Nitro Classic. In a word, the Nitro version is expanded, inheriting the features of Nitro Classic and growing more and more.
When choosing the Discord Nitro Classic package, you will own the following privileges:
You can upload avatars with gif videos : This feature on Nitro Classic allows you to "tap" your avatar into a lively and interesting gif. This avatar will appear on all your chat channels.
Support choosing tags for Discord accounts : This is shown when you can customize a 4-word tag for your account. However, when completing registration, your tag will be selected at random!
Treasure of emoticons : You will unlock the entire treasure of animated icons and can use them in DM or any favorite server.
Video Quality : This is also a factor to be considered when upgrading Discord Nitro Classic. Can livestream with image quality up to 1080p 60fps.
Upgrade file download limit : normally you will be limited to files between 8MB – 50MB but with Discord Nitro Classic your download speed can be up to 50MB.
What are the benefits of Discord Nitro?
Bringing better emojis
With Discord Nitro, users can use any icon available in the library, unlimited and played on all servers. Discord Nitro servers, on the other hand, have community or user-created emojis. Therefore, those emoticons can only be used on the server that created them.
Better file uploads
Without upgrading to Discord Nitro and using the free version, you can only upload files up to 8BM in size. While Discord Nitro can support files up to 50MB in size, more than 100MB in high quality.
Support server to work smoothly
Compared to the usual server booster for $4.99 for one time, Discord Nitro is extremely optimal when it can support the server twice per month. Owning a Discord Nitro is really a wise investment as the server will provide you with the best sound quality, many fresh emojis and most of all, help you stand out from the competition.
HD Videos
Video quality is also one of the benefits of upgrading to Discord Nitro, the high resolution and good screen quality make it perfect for live streaming or screen sharing. This is like the most basic feature with Discord – a good choice for users who often use the streaming feature.
In addition to the above outstanding features, Discord Nitro also supports:
Sound quality and transmission between voice channels have also been improved.
Banners and URL links on the server can be customized.
Users will receive two Server Boosts: this boosts the server's power.
Buy Discord Nitro
Discord Nitro 1 month
When you choose to buy Discord Nitro for a period of 1 month, you will be provided with the following features:
Package price: $9.99
Custom Discord Tag: Customize your own 4-digit tag
Get high-quality video : Stream or screen share on Discord in high resolution, up to 720p and 1080p
File upload limit increased : Upload image size can be increased from 8MB up to 100MB
Can upload GIFs
Emoticon store
Boost Server (2 boosts)
Read Also: What is Discord Bot? How to add discord bots?
How to Find and Use Emoji in Discord
How to find and add a friend in Discord?
Discord Nitro 1 year
Similar to Discord Nitro 1-month plan, 1-year plan includes special offers. However, the price of the annual package is much younger than buying each month individually.
Package price: $99.99
Custom Discord Tag: Customize 4 digit tag as you like
Get high-quality video: Stream or screen share on Discord in high resolution, up to 720p and 1080p
File upload limit increased : Upload image size can be increased from 8MB up to 100MB
Can upload GIFs
Emoticon store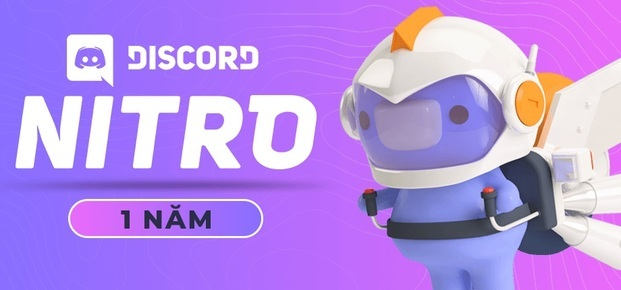 FAQ use of Discord Nitro
What is Discord Nitro?
This is a premium form of chat service about popular games in the world. This server comes with global access, connecting and enhancing the servers belonging to the communities you love.
Discord Nitro Upgrade Packs?
Discord Nitro upgrade packages include 1-month and 1-year packages with special offers.
Conclusion
Thus, through the above sharing, you have partly understood about Discord Nitro as well as outstanding utilities when upgrading Discord Nitro for your server.