Do you want to understand how to deactivate Netflix quickly? A shareable choice, especially if you think the time has come to "thin out" your subscriptions to the now many streaming platforms. 
On the other hand, the offer of streaming services is so wide (including Now, Mediaset Play Infinity, Tim Vision, Disney +, Amazon Prime Video, StarzPlay, and so on) that you might want to " pause "the Netflix subscription to test others.
So let's see how you can disable – temporarily or permanently – your Netflix account. 
Keep in mind, however, that no matter which device you usually use the platform on, the Netflix subscription cancellation procedure will always go through the official website.
Index
From browser
From app
Permanently cancel Netflix
Remove a Netflix profile
Reactivate your Netflix subscription
How to deactivate Netflix From browser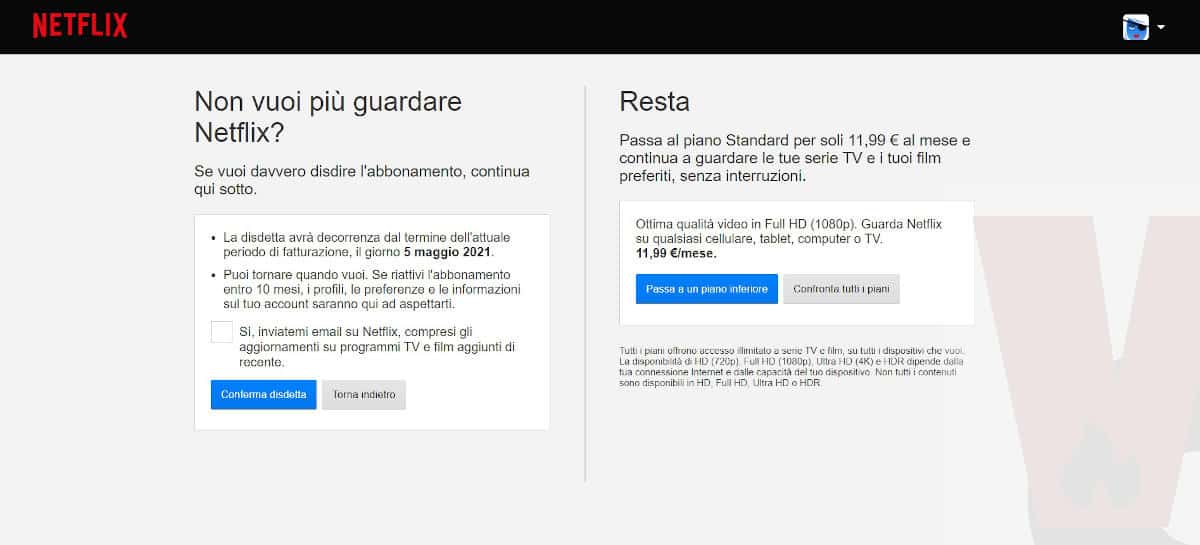 Turn on your PC and open your reference browser (Google Chrome, Safari, Firefox, Edge or whatever you prefer);
Connect to netflix.com and click on " Login ";
Enter your Netflix account credentials (email or phone number and password);
If your profile is shared or if you have created more than one profile, choose the one you prefer to use to deactivate it (by the way, if you are interested in knowing how to delete a Netflix profile , skip to the dedicated paragraph);
Scroll with the mouse pointer on the small icon bearing the avatar you have chosen (top right) to distinguish your profile from the others;
Click on the item " Account " to be sent back to the summary page of your subscription, showing all the data relating to your subscription;
In the section dedicated to subscription specifications, you will find the " Cancel subscription " button, click on it.
You will then be redirected to the page that will allow you to deactivate Netflix (you can see a screenshot at the bottom of this paragraph). 
In this way you will have the opportunity to proceed by clicking on " Confirm cancellation ", to think again (by clicking on " Go back ") or to evaluate the transition to a less expensive plan.
How to deactivate Netflix From app
As anticipated a few lines above, to cancel the Netflix subscription you will have to land, in one way or another, on the official website of the service. 
Therefore, it does not matter whether you use a smartphone, a tablet, or a smart TV, just search the section dedicated to the account in the Netflix app. 
By clicking on it (or by tapping on it) you will be automatically redirected to the reference browser on your device, where you can proceed by following the tutorial described above.
If, on the other hand, you are interested in deleting the Netflix account from smart TV, you may have a small and unwelcome surprise. 
I would like to point out that there is no way to proceed with the direct deactivation of the subscription. The only option you have to do is through your browser.
How to permanently cancel Netflix
To permanently delete the Netflix subscription, you simply have to follow the guide given in the paragraph entitled " Deactivate Netflix from the browser ". 
After 10 months of deactivation, this will become permanent and the profiles, preferences, information previously present on the account, and the Netflix history will be irretrievably deleted.
Do you want your data to be deleted before this time frame? No problem, write an e-mail  [email protected]using the e-mail address you registered with Netflix. 
Explicitly ask for the account deletion to take place quickly.
How to remove a Netflix profile
Why should you remove one of the profiles belonging to your Netflix account? 
For example, because instead of canceling your subscription, you have opted for a downgrade to a lower cost plan, which nevertheless prevents you from sharing with friends or relatives.
Because you are simply tired of paying only you while others are watching "free" "The best content on Netflix.
In short, whether for one or another reason, you might be interested in knowing how to remove a Netflix Profile from your account. So … I'll explain it to you:
Log in to Netflix using your credentials;
You will see the Profiles screen available on the account, click on " Manage profiles ";
You will notice a small pencil appear in the center of each box on the screen, choose the profile to edit and click on this small icon;
In this way you will access the section dedicated to the modification of the profile in question;
Scroll down until you see the " Delete Profile " button. By clicking on it, you can permanently delete the profile (thus eliminating history and viewing preferences).
If you use the Netflix app, do this:
Open Netflix ;
Touch the preview of your avatar (top right);
Touch the item " Manage profiles ";
Make a tap the account you want to delete;
Tap " Delete Profile ".
I remind you that you can only delete "secondary" profiles, not the ones created by the account holder (for security reasons).
How to reactivate your Netflix subscription
Netflix can be reactivated within 10 months of deactivation. To do this, simply login to Netflix again and select " Reactivate your subscription " (you can do it with any profile, except "Children").
The billing date will coincide with the subscription reactivation date.
We are always open to your problems, questions, and suggestions, so feel free to Comment on us by filling this. This is a free service that we offer, We read every message we receive.
Tell those we helped by sharing our posts with friends or just liking to Follow us on Instagram, Twitter and join our Facebook Page or contact us on Gmail, Linkedin, etc